What a story
New Zealand win their first World Cup title since 2003.
In dramatic fashion, as has been many an epic battle at this level, the Silver Ferns held on to stave off a fast finishing Australian side to win the Netball World Cup Final, 52-51, overnight.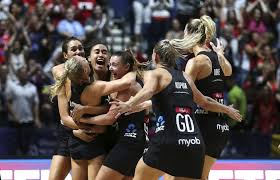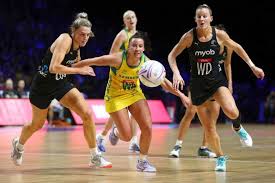 The comentators, almost horse from the frantic calls, amplified New Zealands awesome achievement after sixteen years of hammering at the door, to finally hoist the Cup and say "it's ours", was memorable. Marie Folau was outstanding at the net as was the entire NZ contingent. having to psychologically prepare for a final after going down to the Diamonds in the semi's must have been a battle in itself.  But they simply went on with it for the big one, flustering the Aussies at the brekdowns and making sure they had to work for every point is indicative of the close scoreline. 
In what has been billed an absolutely exhilarating and exhausting final even for the spectators, the Diamonds just couldn't close out the Ferns, surrendering the worlds top spot in the sport for the first time in almost two decades.
NZ will finally be etched onto the silverwear before the ladies take it back home to go in the trophy cabinette.
Scenes of utter joy at one end and total dismay at the other as the Silver Ferns, finally put paid to a sixteen year drought and finally get to take home the silverware.
Well done New Zealand Silver Ferns.
Link below is RNZ's video review
https://www.youtube.com/watch?v=vHj9zKX_9dQ

Categories: World News, The Pepe's - PNG's National Team, Netball PNG - PNG Netball Federation